The Amul campaign with "Butter girl" as mascot was started in 1967. It is probably the longest running outdoor campaign based on a theme and in the process of entering Guinness Book of World Records.You will find hoardings with humorous take on every important political and sociological subject. People can easily connect to the humor and that makes it work. I hope the ads keep coming for ever.
Latest Bollywood block-buster Kaminey – Aug '09.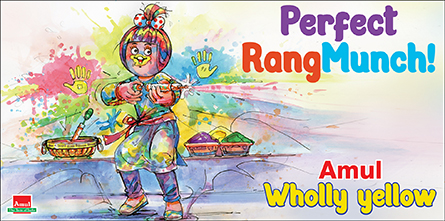 The burning rage and flickering hope amongst the people, on the
first anniversary of terrorist attack in Mumbai – Nov.'09
Mumbai's much celebrated monument housing a platoon of SRPF Jawans – Nov.'09
Venue of IPL shifts from India to Cape Town, South Africa – April '09
Profit-sharing imbroglio between film producers and multiplexes -April '09
Journalist hurls a shoe at Home Minister at a recent press-conference in Delhi – April '09.
On the forth-coming Elections – April' 09
Rain plays spoil-sport during the current IPL cricket matches being played in South – Africa – April'09
Out-break of the Swine flu epidemic – April '09
Latest T.V. campaign of a leading Cellular Company – May'09
Landslide victory of the Congress in the General Election – May '09
Condeming the racial attacks in Australia – June'09
Indian cricket team defeated at the World Cup – June '09
Tribute on the untimely death of King of Pop – Michael Jackson – June'09
Inauguration of the Bandra Worli sea link in Mumbai – July'09
Delhi High Court judgement legalizing Homosexuality – July '09
Growing popularity of Facebook – July'09
Popular T.V. reality show – July '09